Looking at buying your dream performance or classic car? You've come to the right place! Sherwood Dodge has Premium Classics Cars for sale in Edmonton, AB.
View our Performance & Classic Car Inventory Online

---
Buying a Classic Car at Sherwood Dodge
Finding your dream classic cars, muscle cars, exotics, and late model classics is easy when you shop at the Performance and Classic Car Centre in Edmonton, AB.
Sherwood Dodge aims to enhance the experience of the collector-car enthusiast by offering high-quality classic cars while serving our customers with excellence.
Enjoy a true classic setting in our Classic Car Showroom, featuring a vintage style showroom circa the 1950's. This is achieved with a nostalgic look featuring old neon signs and gas pump.
We feature a great selection of beautiful performance and classic cars, allowing enthusiasts to get into a dream vehicle easily.
The Sherwood Dodge Performance & Classic Car Centre is happy to help you with any questions you might have about the process of purchasing a Classic Car.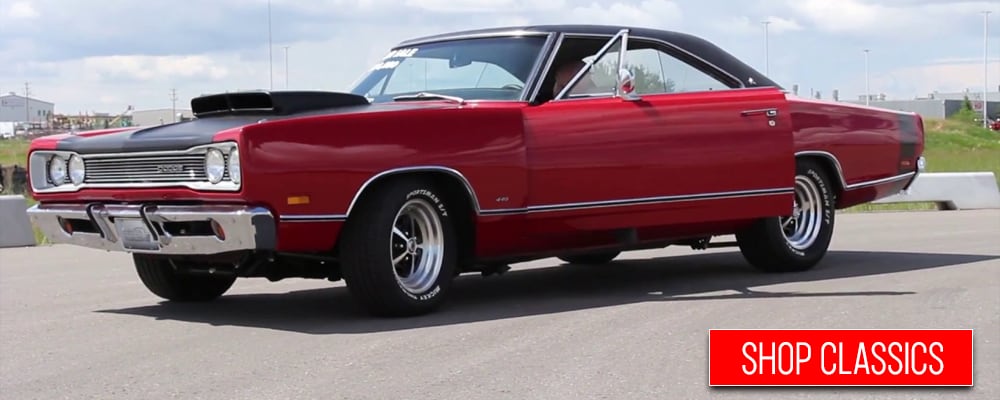 ---
Financing a Classic Car in Canada
At Sherwood Dodge, we make sure that you are able to finance a classic car if that is an option you are interested in. We are happy to offer our financing services through our company to help you out every step of the way.
It is our goal to make it very easy for you to purchase one of the beautiful vehicles from the Performance Centre, especially if you haven't done it before!
Vehicle Insurance for Classic Cars
One common question often faced by buyers of classic old cars is "What do I do about insurance?".
Once you purchase a vehicle at Sherwood Dodge, we provide you with a bill of sale and then do an appraisal so that when you take your vehicle to get insured, you won't run into any trouble.
All of our vehicles are also registered to help streamline the process of ownership transfer.
---
Classic Car Service and Maintenance
A lot of people want to get into this hobby but can sometimes hesitate due to a lot of unknown factors and questions as you begin. We can help!
Bring in your older style models to the Performance and Classic Car Centre and ask about service, parts and any special add-ons needing arranged.
Sherwood Dodge is here to help you through every step of the process.
---
Selling Your Classic Car in Edmonton, AB
Are you or someone you know considering selling a classic car? We'd love to check out. At Sherwood Dodge, we are interested in buying old muscle & classic cars!
Contact us below to begin your journey to owning or selling a Classic Car today.